#1 International Bestseller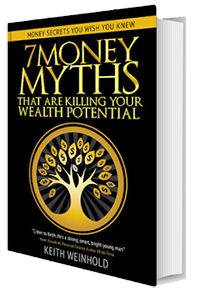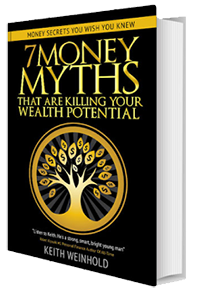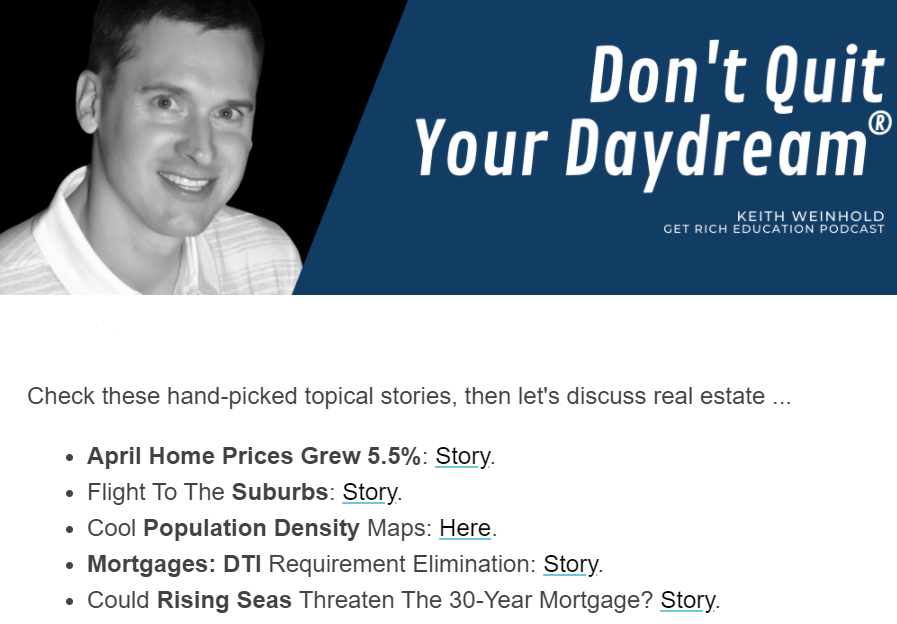 Grab Get Rich Education's Book and Letter!

 Free E-Book. 7 Money Myths That Are Killing Your Wealth Potential contains money secrets you can't believe you never knew in 84 concise pages. It finally clarifies how real estate creates financial freedom.

Free Letter. Our weekly Don't Quit Your Daydream E-mail letter wires your mind for wealth. It helps you make money in your sleep and updates you on important real estate investing trends.

Full of value, void of hype. Just real content that makes a difference in your life. Rather than living below your means, learn how to expand your means.
AS SEEN IN: 

|

|

GET THE FREE EBOOK + LETTER

Great advice
As a relatively new investor (purchased my first turnkey properties a year ago) I have continued to learn more every day. Keith's podcast has been one of my favorites. As a listener who has listened a majority of his podcasts I can't honestly say there was anything new here for me but it is something I'd highly recommend to someone who wants the best of Keith all distilled into a compact and concise read.
The main thing I learned from Keith is the power of leverage rather than paying cash. The danger of holding onto equity rather than getting it working for you and the downsides of trying to aggressively pay down loans when you could use it as a rainy day "liquid" fund or hold it for future deal opportunity.

5.0 out of 5 stars Quick and Easy Read with Practical Real Estate Investing Examples
7 Money Myths That Are Killing Your Wealth Potential is a brilliant book that outlines easy-to-follow real estate investing examples with excellent resources for where to find them. First, the author Keith Weinhold (Get Rich Education) nails it by explaining how you need to change the money mindset taught to you in school and by your parents about wealth building. And then, Weinhold tells you how to build wealth by investing in income producing property. If you want a quick read (2-3 hours) with all the answers on real estate investing, this book is your go-to guide!

Practical and to the point
I love how practical and to the point this book is and how it really dispels the myths we've been taught to believe about how to build wealth. I especially love that Keith spends time digging into the mindset shifts required because that is incredibly important if you're going to take action on any of these strategies. A lot of people present tips and strategies but if you don't have the mindset to help you put them in place, it's going to be much harder than it needs to be.

Life changing potential!
There are many "get rich quick" scams out there. This is NOT of them. Keith Weinhold clearly and precisely outlines ways to change your mindset to think and act in ways that are to your benefit. It may seem like common sense AFTER reading it, but common sense isn't so common these days. His book (and his podcast) has been a spark that I needed to ignite the flame in my life to change my thoughts, behaviors and attitudes about being financially free. Thanks for all your hard work, Keith!!

Five Stars! Keith's straightforward, no-nonsense approach to managing your financial life is a refreshing take on the field.
Keith's straightforward, no-nonsense approach to managing your financial life is a refreshing take on the field. He swiftly dispels long-standing financial myths and guides readers through a step-by-step process for achieving our best potential wealth. This book is a quick and easy read, yet packed with useful information, and therefore highly worth the (small!) investment.